Here are some pics and explanations as to why the Meral racer is every bit as good if not superior to a load of spivvy ponce (english idioms) bikes of Italian or Spanish manufacture, who's prices and reputation far exceed that of the Meral. Meral had a TDF team, they had the best mechanics around, they had riders like Castaing. And nobody wants to know Meral because the myth of the great Masi, Colnago et consorts overclouds everything. You tell me a René Herse is great, I'll agree. In terms of weight, build quality, it is visibly in a class of it's own. The other stuff... on yer bike. My Meral racer is one of the best 70's /early 80's "production" bikes in the world. It was thrown together by the head mechanic of the team.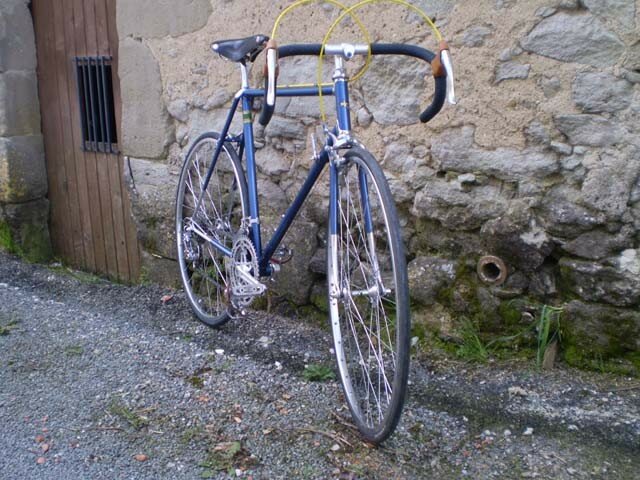 Quite right, definitely some ponce has done a spiv job on a perfectly good bike. I couldn't stand all this hype about Masis and stuff, so set about making mine look "right".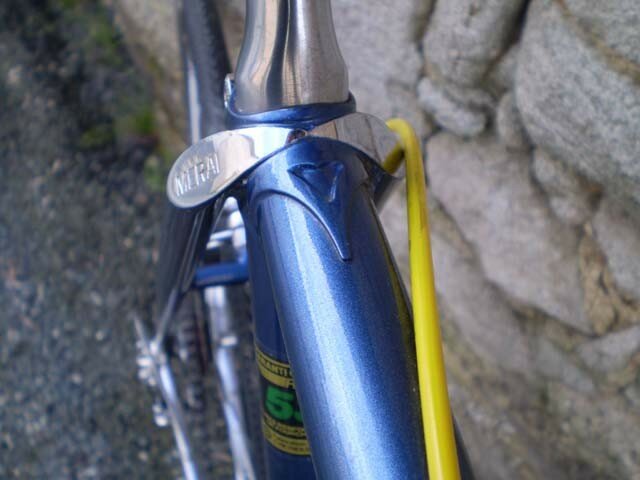 Now show me a cluster like that on an Italian bike, and I'll admit you might have a point. That is true craftmanship for you.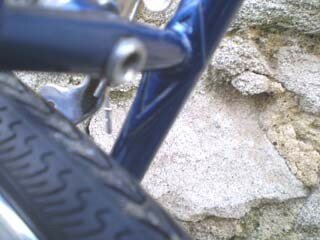 Above left some more great frame building. To the right, looks like it must be one of them Compognalo copies of a Normandy hub.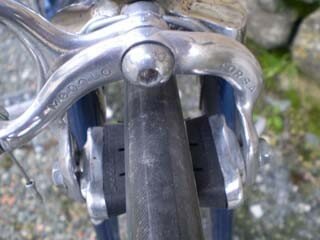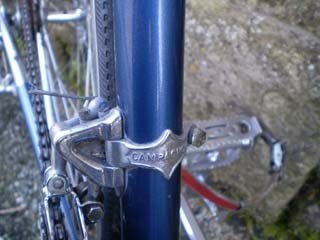 Modolo Corsa Brakes and pads (which I have a small stock of for my own use only), and to the right, another of them derailleurs from Italy. That one actually works. Must be a design fault.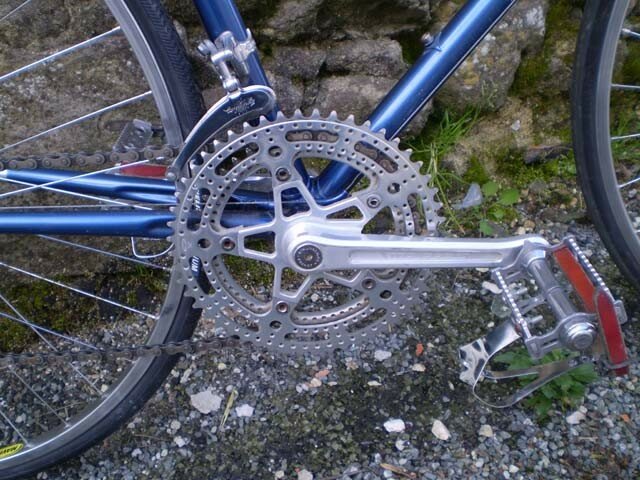 Ach, ze Grosse chainzet: 52/42 and loads of holes and shine. Nice.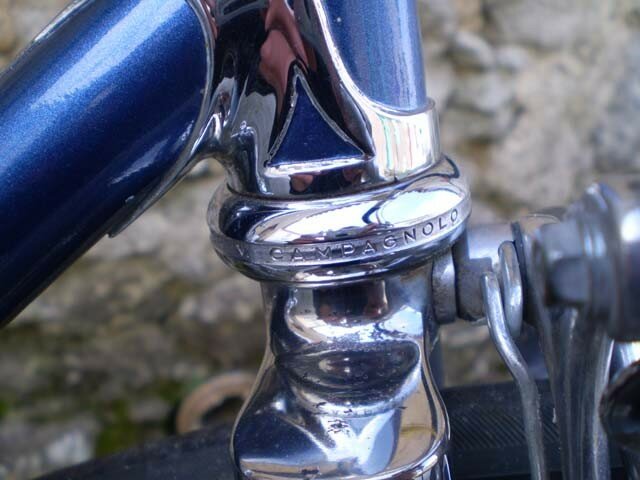 I would have prefered a Stronglight, but that campognalo headset is actally quite good.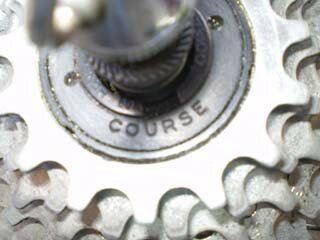 5 speed Maillard Course with proper ratios for where I ride. You'd look darned stoopid on 52-42 / 12-17 where I ride, even if it looks more "true to the creed of the Great Builder" to stay "racey-closey". The pedal is a flat alloy Lyotard, 20 grammes lighter per pedal than the equivalent eggbeater, and it doesn't ruin your shoes or give you toe cramp if you're not wearing narrow cycling specific footwear. The ever so juicy red strap is a Lapize, I wouldn't be seen dead riding a Christophe on a machine of this quality.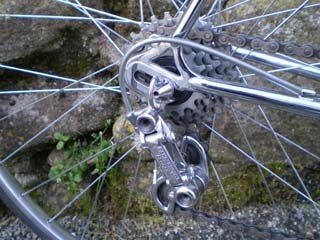 The thing hanging off the back of the bike is a Campagnolo derailleur. Sorry afficionados, but it just don't work. Whatever sprocket set you are using, it won't handle more than two gears per chainwheel properly, and even then it is clunky. Yes, it is set up right, it may be a prestigious brand, but give me a Huret anyday. I'm only keeping it there to keep up in the spiv race. The other photo is of a rather nice bottom bracket cut.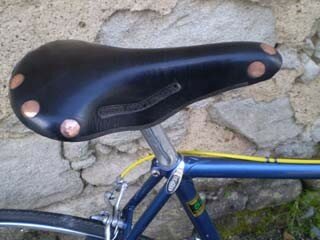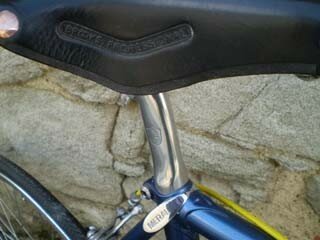 Ahhhhh !!! The blinding shine !!!! As soon as I find some glue on Strass and fake rubies, I shall festoon the bike with jewels and Mother of Pearl inlay just like a pope bike with gold plate, only mine 'll be even more spiv. The pic to the right is to show the ever so spiv Compangolo aero post.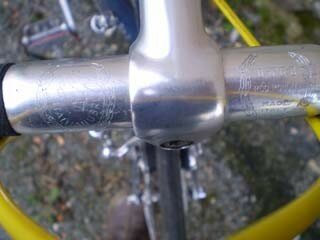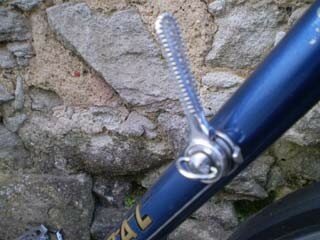 Changes from original config are a Brooks Pro saddle, a Campagnolo "aero" stem, the bars and levers. And of course that impeccable taste of spiv class, the Yellow Cable Housing. Why did I make these changes ? Because I felt like it, and you're either born with bad taste, or you aren't. Almost forgot, the ultimate in spiv: the polished rivets on the shiny leather saddle. Tarting the bike up was a full afternoons work, just a demo of what too much polishing can do. Luckily, tomorow this Meral get's a 50 km ride and lots of mud and road stuff all over her.
Anyhow, don't bother turning up my place with prayers and pleading that I exchange this or any other of my Merals for your Italian stuff, I don't want it, thank's all the same.
Don't call me, I'll call you.