12 septembre 2009
Adult content warning stuff: This blog contains second degree humour. If your IQ is lower than 3 (a goldfish is 4) or you take everything litterally, you may want to avoid this site.
The thing that ye beholdeth is a 1930's racer which, without bragging, I know no equivalent to. It's equipped with top of the line Osgear (the "Type Professionnel" Super Champion three speed indexed with wing nut for taking up chain slack via the tension arm), Bell wing nuts, Super Champion aluminium hubs, Bowden brakes and levers, octogonal Eclair cranks... which is all very well were the bike not to weigh under what a top o' the line seventies racer weighs. To compound matters further, it's in pretty nice original condition. By the way, it's not for sale. Nor is anything else I have in the way of bikes.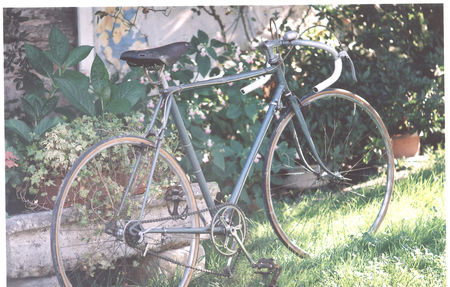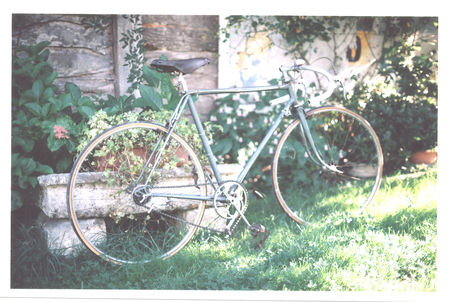 Were ye to click upon the images, "Forsooth"* would ye screach, for thereby would their size be verily enlarged.
* screaching of other words may be likeley depending on where you live, and whether you are shocked by arty-farty David Hamilton type photographic antics.
02 juillet 2009
Well, it goes like this: there's an ad on an internet site, bad pic but a little photoshop work shows a nice bike. Or at least parts which should mean a good bike. So I call the guy, we talk bike and bread, he's happy with 50 euros, I'm happy with what I know about the bike. It turns up at my place by truck, the very first thing I see on opening the box is the RD... No hysterics, but I know it's a winner. The guy didn't get another call about the bike. Mad. It doesn't say Herse or Masi or something, people can't think for themselves, they're not interested. Then they see what the bike is, they start complaining. Go figure...
Anyhow, the bike is 60's, custom built, a fortune (then and now) in parts on it. And it's mine. Not for sale. Pseudo experts are free to crawl out of the woodwork and scream "mid range mass produced". No law against making yourself look stoopid if you want to, and pseudo experts should be allowed to have their day, freedom of expression :)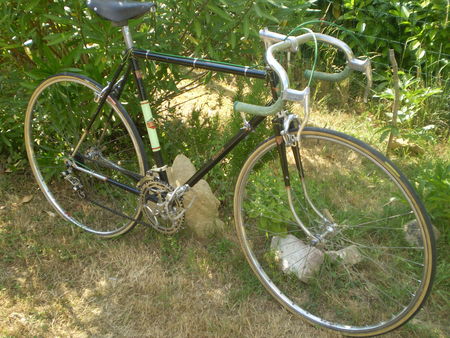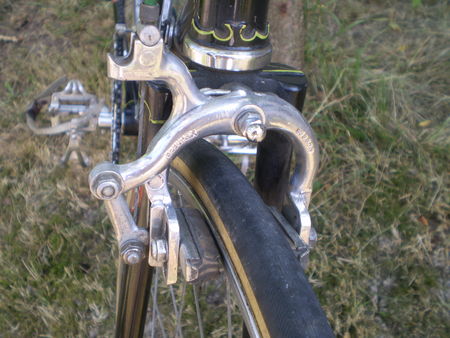 Beborex with cable actuating lever which slides in groove on brake arm.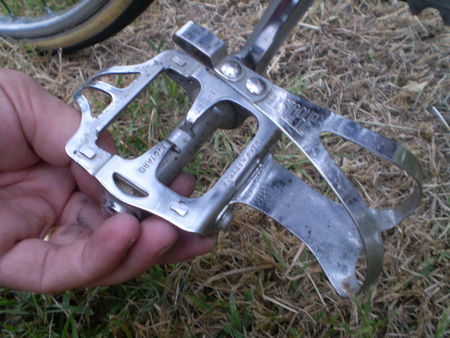 Berthet Lyotard platforms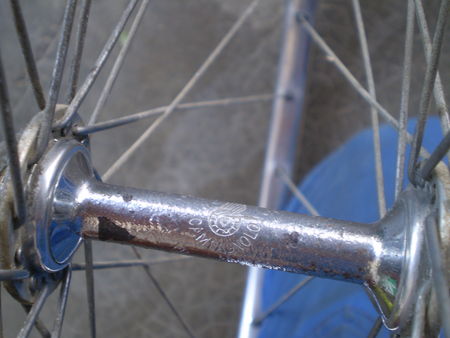 Campagnolo flipflop. The other side has a 5 speed Atom unit.

Shop still exists. They're researching the records, inquiring.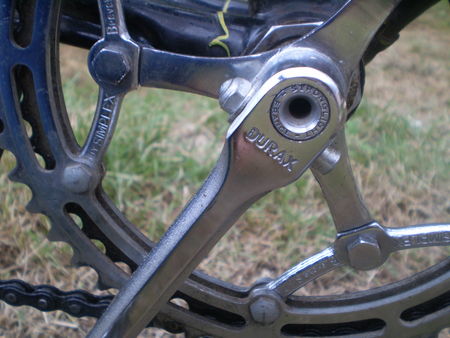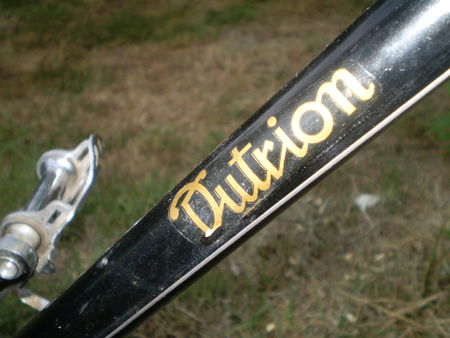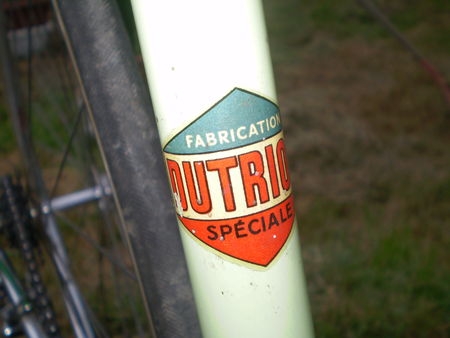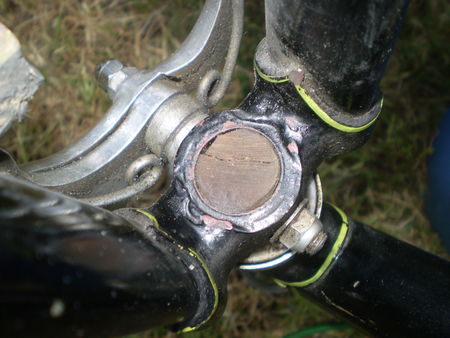 Handbuilt fork, wood plug.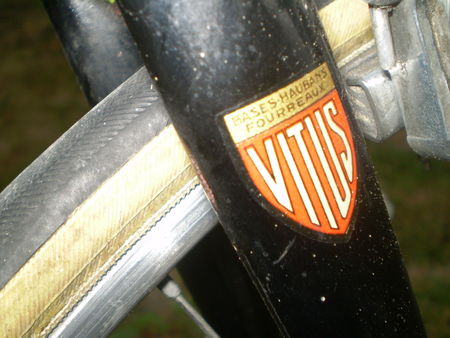 Blades and stays also Vitus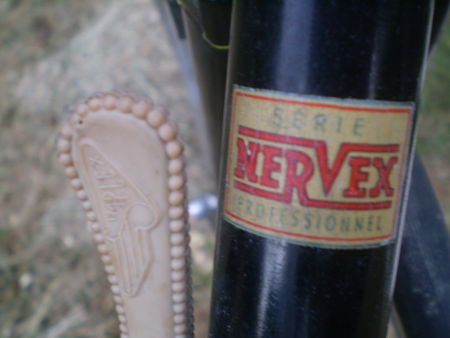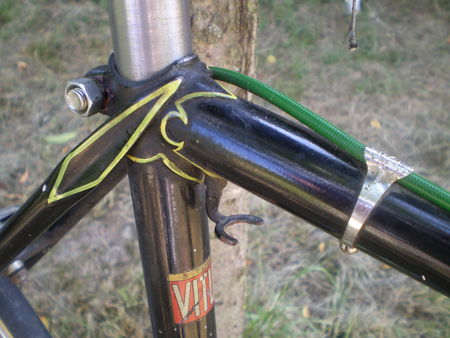 Sure, nice seat cluster, but also a racer's pump peg. Saves about 10 seconds on a tub change.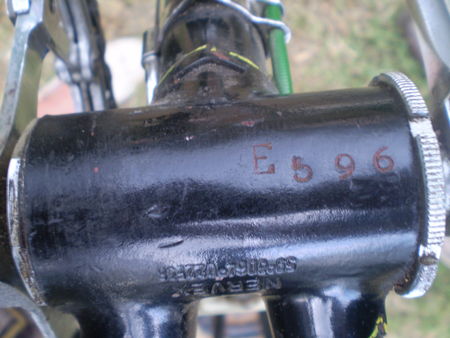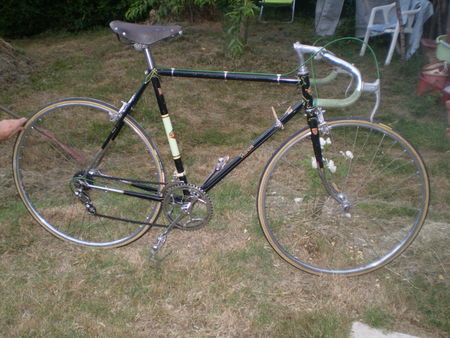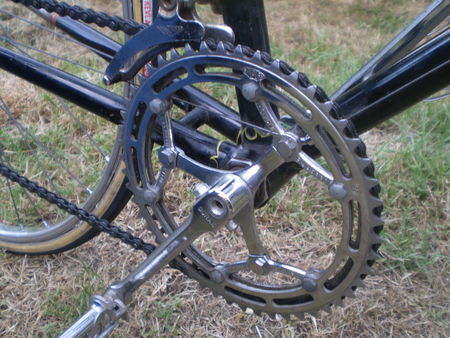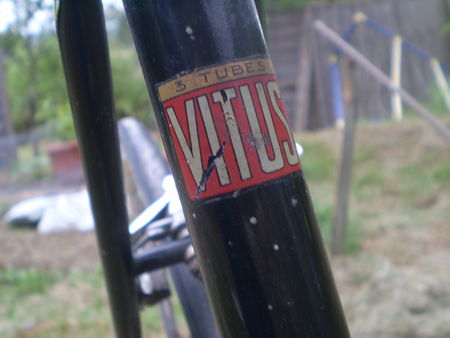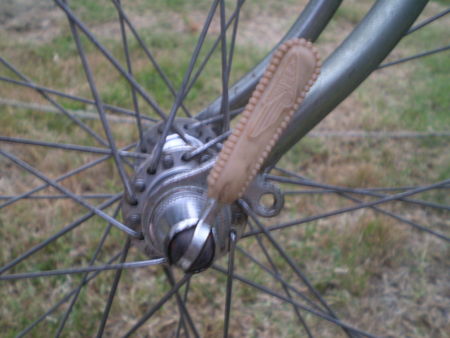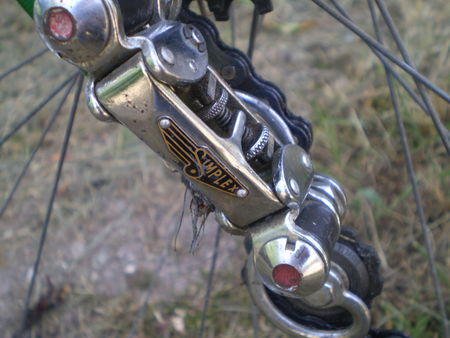 Looks like Simplex Juy 61 Export. But what do I know ?
So that sums it up nicely. It also -this bike- ends a two year effort to build a bike collection starting with a 15 euro investment, then moving up by swapping, a bit of selling of uneeded parts. This collection is now at around 30 bikes and needs slimming to 20. All bikes I really like. Not necessarily prestigious, but some are, that's life. My size except 2 of 'em. If there is a moral to this, it might be that no amount of money can buy you what a little common sense and research, love of bikes and never taking anything for granted can. What you can buy with a load of bread is a great collection of five or six brands of bike. You can spend 250.000 bucks on building a giant collection of what every other rich collector in the world has. And that's OK too, I guess. But not quite my cup of tea, old chap.
One o' these days, I'll build a proper site and show 'em all. Probably show a few more here in the meantime.
18 juin 2009
Caminargent. Pierre Caminade, the founder. Caminade a trademark. Also Caminargent a trademark. Camin as the abbreviation of Caminade, and Argent, meaning "silver" in French. Also meaning "money". Silver of course being the main metal for coins at the time when French language evolved into something remotely like it's current form.
Anyway, this is one is almost finished, two to go. Maybe. Not sure you need more than one example of a given bike/brand. And before that there are other examples of aluminium bikes which need attention: a mecadural, and a nice Gnome et Rhone which some juvenile nut painted black with a can of spray (the worst invention since syphillys) because he thought it was more "Gothic Death Trash Punk Hard Metal Punk Rock" style.
Polished entirely by hand. Because you can get more shine with a load less effort using a bench polisher and stripping the bike down, or going over it with a dremmel grinder with a brass brush on the end (unfortunately, quite a few pigs out there doing that, causes irreversible damage), but you are bound to remove too much material, and polish off some distinguishing feature. This is just enough to make the bike look presentable, but mainly a way of removing the aluminium oxide which if left untouched will pit the surface badly. Also a bit of shine shows any tends however small: they stand out like warts on Snow White's nose.
I guess that if you click on these awful photos, you can "supersize" them. Of interest here is the derailleur lever setup: a Simplex but with a little aluminium shroud around the cable guide. hadn't seen that one before. Also interesting is the originality of the bike. Except for the saddle, lighting, wingnuts, pedals (and alloy fender stays which had been replaced by steel) replaced by your's truly, and the cabling, maybe the rack and chainguard replaced by the previous owner, the bike is 100 % original. Like it or not, these things were not all delivered with square spindle BB sets and allot Stronglight cranks. It would have been easy to fit that gear, plenty of spares here, but if a bike comes original with a given spec, it stays original. Otherwise there's no limit to the amount of tampering you get into, like disguising donkies as racing horses. Big market for that, actually...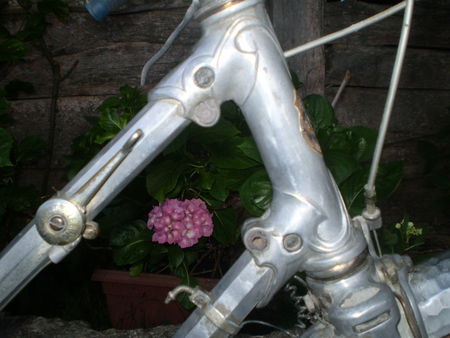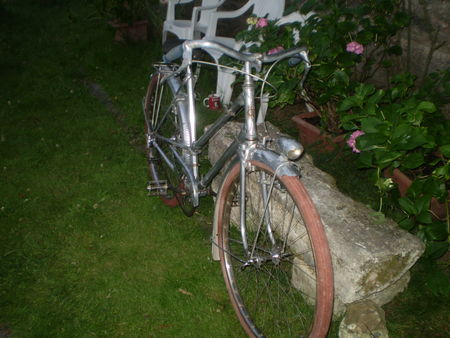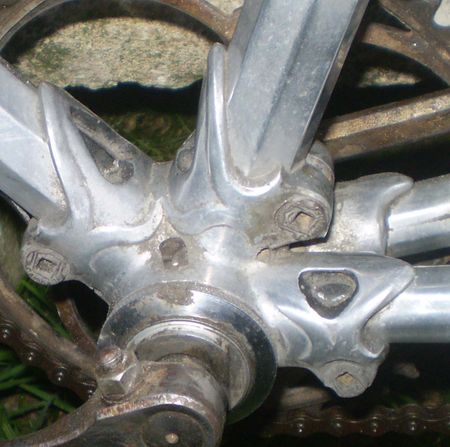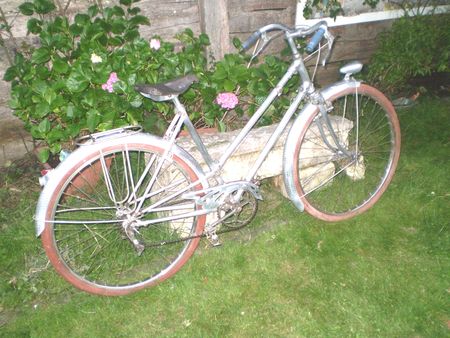 16 mai 2009
Possibly 1942, serila number suggests so, but frame build looks like late 30's. A load of very fancy stuff on it, including a "unknown" Italai (French, says Bte SGDG) derailleur working on the Oscar Egg principle of shifter fork and chain tensionner, but much more complex as regards the movement of the shifter fork, which slants up/down as you move up or down the three cogs.
Left for the time being "in it's juice" as the French expression goes. Meaning fully disassembled, but no repaint and very litle polish. However, a load of oil rubbed in to keep things stable. Kind of a "museum piece" more than a rider. For the moment, anyway.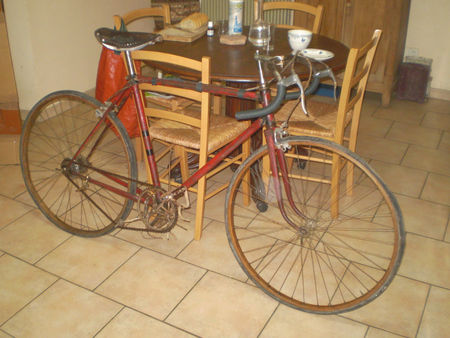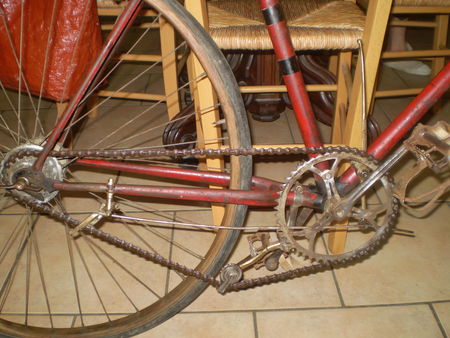 28 février 2009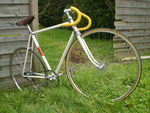 That's a picture of the most massively cool fixie job ever. It's likely that if you click on that image you get a full size shot which will blow your mind. And I ain't saying that because I did the job from a old track frame. So why's a fixie so Joe Cool right now with the kiddies? Simple: it's simple. Minimalist approach. No need for any mechanical knowledge. Self endagerment through lack of stopping ability (come on, don't gimme the crap about bunny hopping, anything cut's across you it'll be bunny droppings in your pants). And fashion. Like over here in Europe, we're unfortunately catching fixie fever, and all the nerds are trashing perfectly good geared bikes to make ersatz track bikes for road use. They got chainlines you wouldn't want on a chainsaw, parts which fit more or less, and they perform hopelessly. In a town maybe they're ok, but get out in the countryside with some hills (google "hill" fixie owners), you walk. So, how long is this stupidity going to last ? Just as long as the last fashion, MTB's. Geeks spending thousands on tractors with tig welding which should carry a death penalty it's so crude, too many gears to be of any use, and the things get used on the road. Above 15 mph you got great whooshy squishy noise from the tires, and you were stuck to the road. So it's a fashion, and as an old geezer I'm all for it, because with a properly set up steel bike with gears, I can trash any fixie in the world.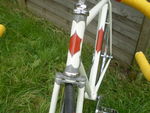 30 mars 2008
Here are some pics and explanations as to why the Meral racer is every bit as good if not superior to a load of spivvy ponce (english idioms) bikes of Italian or Spanish manufacture, who's prices and reputation far exceed that of the Meral. Meral had a TDF team, they had the best mechanics around, they had riders like Castaing. And nobody wants to know Meral because the myth of the great Masi, Colnago et consorts overclouds everything. You tell me a René Herse is great, I'll agree. In terms of weight, build quality, it is visibly in a class of it's own. The other stuff... on yer bike. My Meral racer is one of the best 70's /early 80's "production" bikes in the world. It was thrown together by the head mechanic of the team.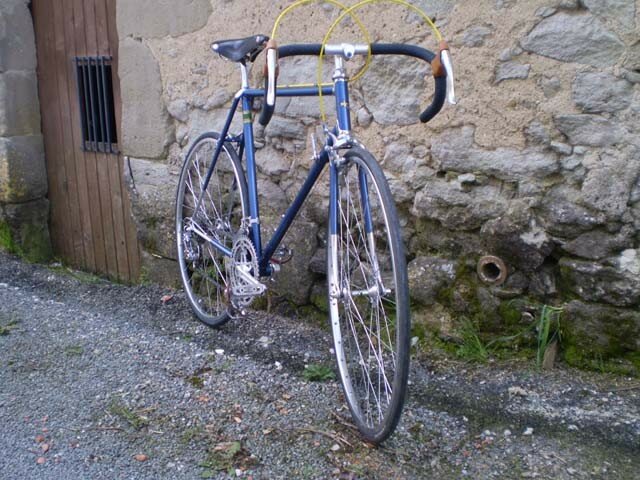 Quite right, definitely some ponce has done a spiv job on a perfectly good bike. I couldn't stand all this hype about Masis and stuff, so set about making mine look "right".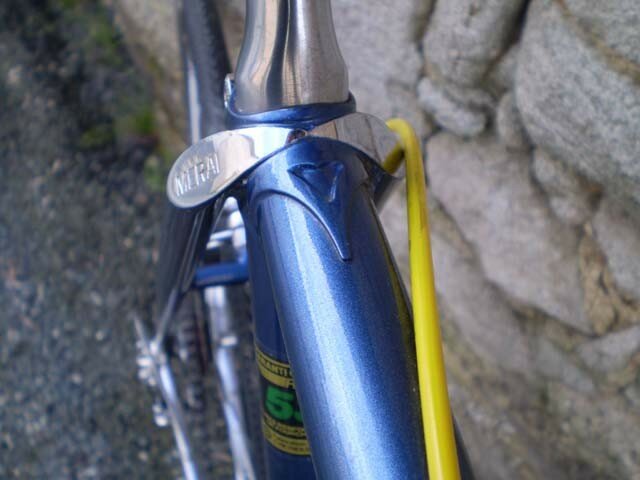 Now show me a cluster like that on an Italian bike, and I'll admit you might have a point. That is true craftmanship for you.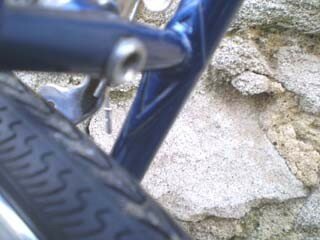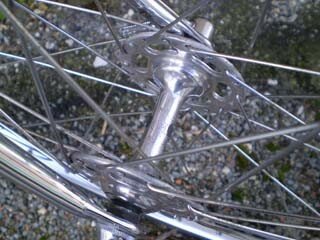 Above left some more great frame building. To the right, looks like it must be one of them Compognalo copies of a Normandy hub.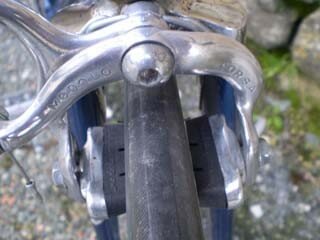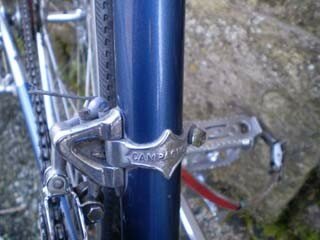 Modolo Corsa Brakes and pads (which I have a small stock of for my own use only), and to the right, another of them derailleurs from Italy. That one actually works. Must be a design fault.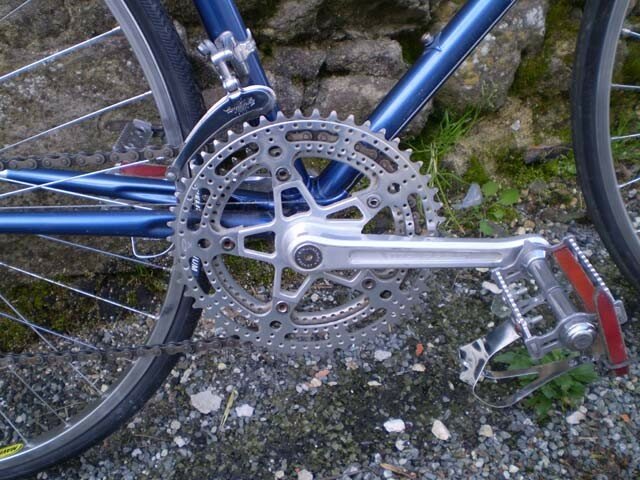 Ach, ze Grosse chainzet: 52/42 and loads of holes and shine. Nice.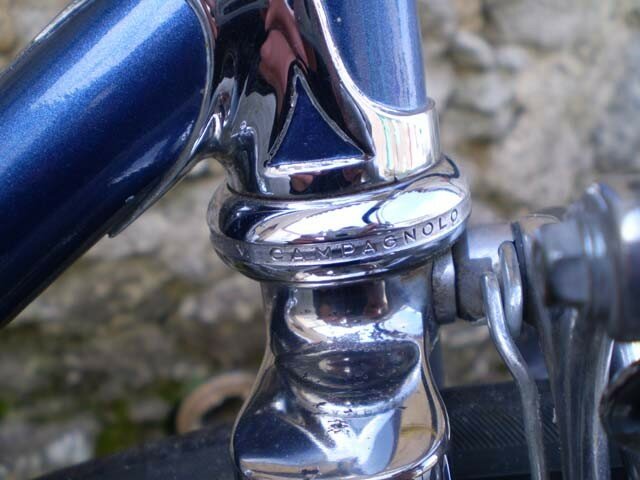 I would have prefered a Stronglight, but that campognalo headset is actally quite good.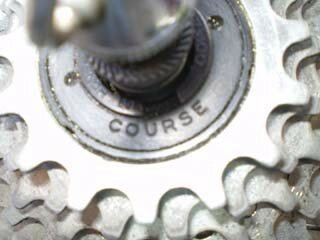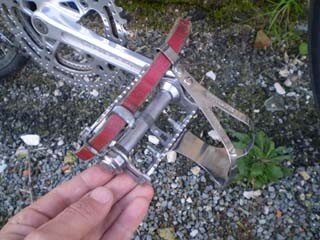 5 speed Maillard Course with proper ratios for where I ride. You'd look darned stoopid on 52-42 / 12-17 where I ride, even if it looks more "true to the creed of the Great Builder" to stay "racey-closey". The pedal is a flat alloy Lyotard, 20 grammes lighter per pedal than the equivalent eggbeater, and it doesn't ruin your shoes or give you toe cramp if you're not wearing narrow cycling specific footwear. The ever so juicy red strap is a Lapize, I wouldn't be seen dead riding a Christophe on a machine of this quality.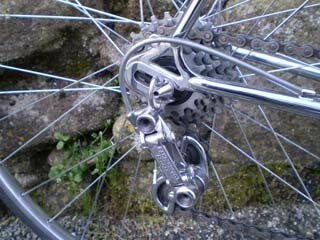 The thing hanging off the back of the bike is a Campagnolo derailleur. Sorry afficionados, but it just don't work. Whatever sprocket set you are using, it won't handle more than two gears per chainwheel properly, and even then it is clunky. Yes, it is set up right, it may be a prestigious brand, but give me a Huret anyday. I'm only keeping it there to keep up in the spiv race. The other photo is of a rather nice bottom bracket cut.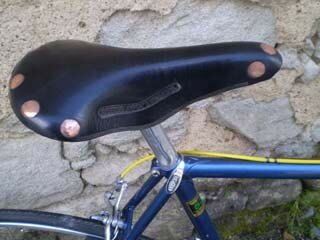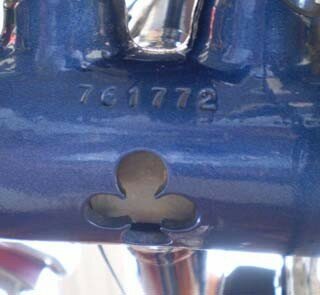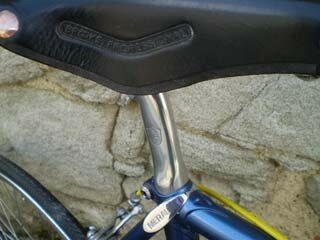 Ahhhhh !!! The blinding shine !!!! As soon as I find some glue on Strass and fake rubies, I shall festoon the bike with jewels and Mother of Pearl inlay just like a pope bike with gold plate, only mine 'll be even more spiv. The pic to the right is to show the ever so spiv Compangolo aero post.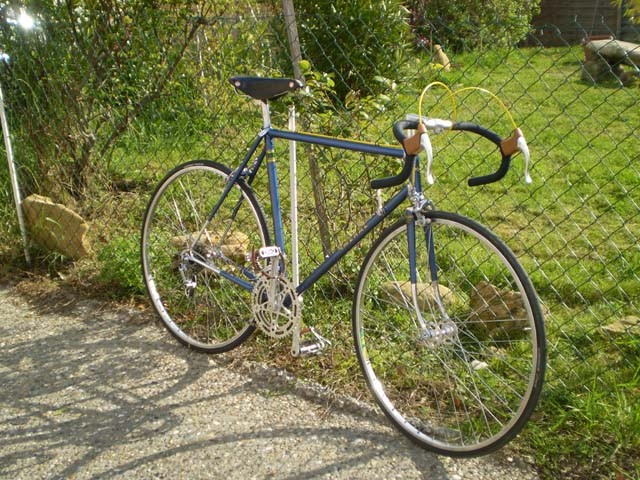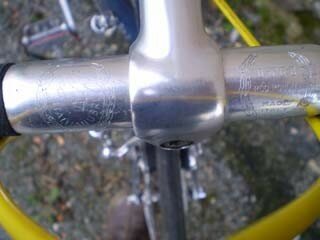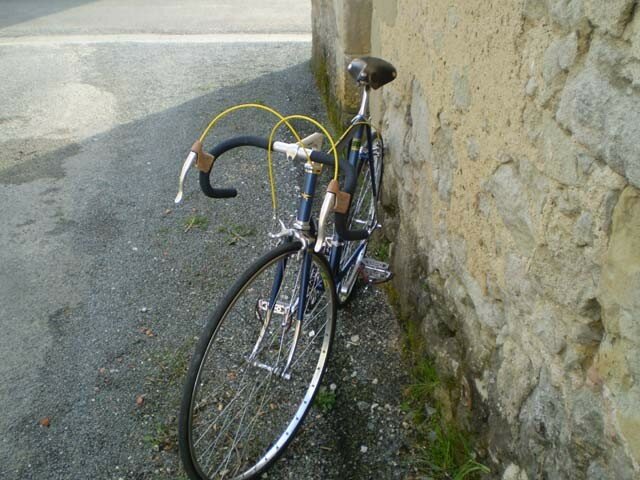 Changes from original config are a Brooks Pro saddle, a Campagnolo "aero" stem, the bars and levers. And of course that impeccable taste of spiv class, the Yellow Cable Housing. Why did I make these changes ? Because I felt like it, and you're either born with bad taste, or you aren't. Almost forgot, the ultimate in spiv: the polished rivets on the shiny leather saddle. Tarting the bike up was a full afternoons work, just a demo of what too much polishing can do. Luckily, tomorow this Meral get's a 50 km ride and lots of mud and road stuff all over her.
Anyhow, don't bother turning up my place with prayers and pleading that I exchange this or any other of my Merals for your Italian stuff, I don't want it, thank's all the same.
Don't call me, I'll call you.